CryptoPunks was reviewed using Osiris web 3.0 browser
Collecting is the biggest and most prevalent genre within the blockchain space. Some give you more to do, such as leveling up your collectibles and pitting them against other players' collectibles. As for others, it's just all about growing a collection and gaining bragging rights for owning a rare piece. CryptoPunks falls under the latter, however unlike dApps that have a similar focus, it presents itself with more prestige and thus its collectibles are a lot more pricey. But is its high-end market, worth it?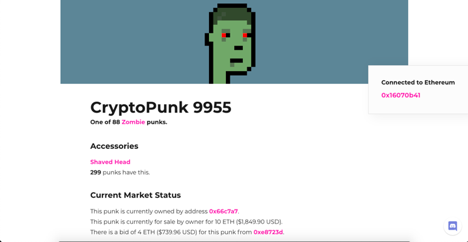 There isn't much to CryptoPunks, all you can do is just sell, bid, and purchase these algorithmically generated punk avatars, aptly named Punks. There are no two Punks alike, but most are either male of female Punks, with some rare Punks sprinkled in, which can be Aliens, Apes, or Zombies. If you're looking for a specific type of Punk, well it can be a cumbersome experience.
CryptoPunks sorely lacks a User Experience design. The whole platform is managed via the developers' blogsite and the only available Header menu options are Projects, About, and Writing, none of which send you to the CryptoPunks Marketplace. In order to view the Marketplace, you'll have to scroll through their blog post about the dApp and look for the associated hyperlinks. Once you are looking at the Punks for sale, it's a whole other mess entirely.
If you're looking for any way to filter and sort the type of Punk you want, say based on rarity, well you're out of luck. All the Punks that are available for sale are just dumped onto the page, with the legwork of filtering through the pile of digital collectibles all down to you. It's all listed in an ascending order by price, so you best be ready to sift through each Avatar to see which one you want. And, of course, since the Menu Header is anemic, backtracking or switching to the Bidding market is just as cumbersome.
As for the pricing of each Punk, they're not on the cheap side. Quite the polar opposite, actually. The average price of one Punk is 0.43 ETH, which, compared to what else is available out there, is expensive. The rare types go for even higher amounts with one Zombie Punk going for 15 ETH. The cheaper option is participating in a Bid, however, if the owner doesn't accept the bid you offered, well you're just wasting your time, especially since Punks that are up for Bids are also being sold at the same time for a higher price.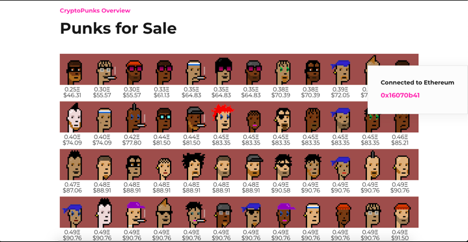 The design of the Punks themselves is fairly simplistic, where CryptoPunks uses an 8-bit art-style. The novelty mainly lies in that all these Punks were algorithmically generated, but if you're looking for something more aesthetically complex, it's best to look elsewhere.
Overall, CryptoPunks doesn't offer much other than the notoriety of owning such an expensive piece of digital-collectible art. The avatars themselves use a simplistic look and the platform itself is even more so reaching the anemic territory. At the end of the day, it's up to you whether you want to participate and spend your ETH on such a collection.
2/5