OpenSea was reviewed using Osiris web 3.0browser
Everything we buy and collect on the blockchain is ours and no one can take that away from us. It's only right that for exchanging our ETH, in turn, the item we buy is solely ours to earn. But what if we decide we don't want it anymore, or even want to earn a little bit more? Well, instead of just holding on to an item and letting it just sit in your collection, why not sell it?
OpenSea is a platform with an economy set by buyers and sellers, where you can sell anything you own on the blockchain from any dApp. It's similar to any platform that lets you buy and sell items. You as the seller can choose how much you want to sell your item and the buyer can either choose to buy it outright or bid for it. It's a simple platform that is customer-friendly, especially given the flexibility of what you can sell, and is also user-friendly.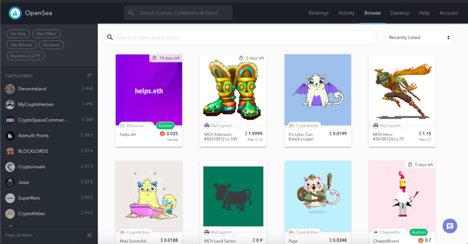 The homepage greets you with all the items recently put on sale, regardless of what dApp they come from. If you want a more organized selection, OpenSea sorts items by what dApp they come from in its sidebar. The dApps are then sorted by ETH volume by default, but you can change it to alphabetical, and number of listings as well. You can also sort to see what items or on sale, being auctioned, etc. It's all thoroughly curated and sorted, which makes it that much easier for you to find, or even discover, what you're looking for.
There are other functions to OpenSea too, such as a live feed that gives real-time transactions to do with crypto assets. This can also be sorted to just specifically on OpenSea or just sales. It's a function that can help give you a general idea of how lively the market is or even help you see what bids you can jump in on.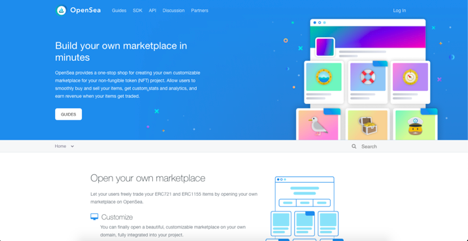 A cool little section, which isn't for everyone, is the Develop section. It's a section that helps you integrate a storefront for your blockchain dApp. It's a great section for small dApp devs to ease the load of creating a store function. OpenSea even has guides to help you get going and an APK to get things started.
Overall, OpenSea is the best buy-and-sell platform for all of your blockchain collectibles. It has great sorting functions that will help you narrow down exactly what you're looking for and even discover some new bustling markets of other dApps. If you have a lot of digital collectibles or anything on the blockchain that you want to sell, then head on over to OpenSea and get rid of it all or get something new for cheap.
4.5/5