Known Origin was reviewed using Osiris web 3.0 browser
Art curation has come to blockchain. It's a simple dApp full of thousands of artwork from hundreds of artists. And, despite its simplicity, it's functional for both the artists and the consumers.
KnownOrigin is a great curator of different types of digital art work and one of the best platforms to discover and support artists. As soon as you open the dApp, it greets you with the current numbers it holds. It gives information, such as number of artworks sold and the amount of money generated. Also, the front page automatically shows you the latest works being sold by artists.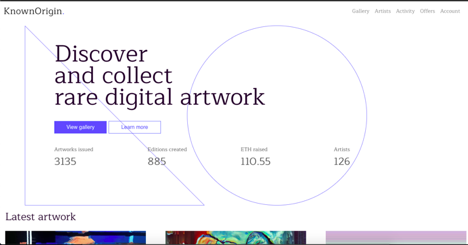 If you want to dig further, you can click the Gallery section. Here you can set the appropriate filters, such as what kind of art you're looking for, whether abstract or animated works of art. It also allows you to check works from specific artists and have only those works fill the page. So, it gives fine-tuned filtering options to keep things neat and organized, and even opportunities to discover.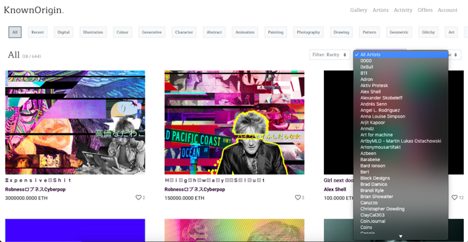 You can dig further by clicking on a specific artist's profile. Here all their listed artwork is shown, plus social media profiles and a short bio. You can also see if they have any open offers for their works and all the transactions they've conducted.
As a customer, aside from directly purchasing the art, you can start a bid for certain pieces. If the bid is accepted, then the highest bid wins, similar to any form of bidding. If you don't win the bid, then the ETH you placed will be immediately refunded. However, if at time of viewing you lack the necessary ETH, then you can favorite the work by clicking the heart icon. By doing this, it acts as a sort of wish list function, so you don't lose track of the piece you're eyeing for.
If you're just the average customer, be careful, however, and look carefully at the prices. Artists deserve to be paid for their hard work, but some of the prices are absurdly expensive, similar to how certain artworks cost millions in the real world art industry. Just do some due diligence and make sure not to accidentally give away too much of your saved up ETH.
Overall, KnownOrigin is a wonderful art curation dApp for the blockchain space. It's a great platform for artists and customers alike, with filtering options for artist exposure and customer discovery. If you're into collecting digital art, or even want to dabble in it to get a taste of the future, then KnownOrigin is a great dApp to use.
4/5